Faculty of Management and Accounting

History
The Faculty of Management and Accounting is the largest faculty in the College of Farabi (This College has a history of more than half a century of academic activity, which has been formed since 1970 as the College of Judicial and Administrative Affairs.) - University of Tehran in terms of the number of offered courses and enrolled students. The faculty has been upgraded from "Department" to "Faculty" since 2004 with the expansion of management courses. The current building of the faculty was inaugurated and put into operation in 2014. The faculty currently has 35 Courses and majors, 38 faculty members, over 1800 students, and more than 16,500 graduates.
Dean of the Faculty
Dr. Hassan Zarei Matin

2016 so far

Dr. Hossein Khanifar

2010-2016

Dr. Gholamreza Jandaghi

2007-2010

Dr. Seyed Mohammad Moghimi

2004-2007
The structure of the Faculty of Management and Accounting is as below.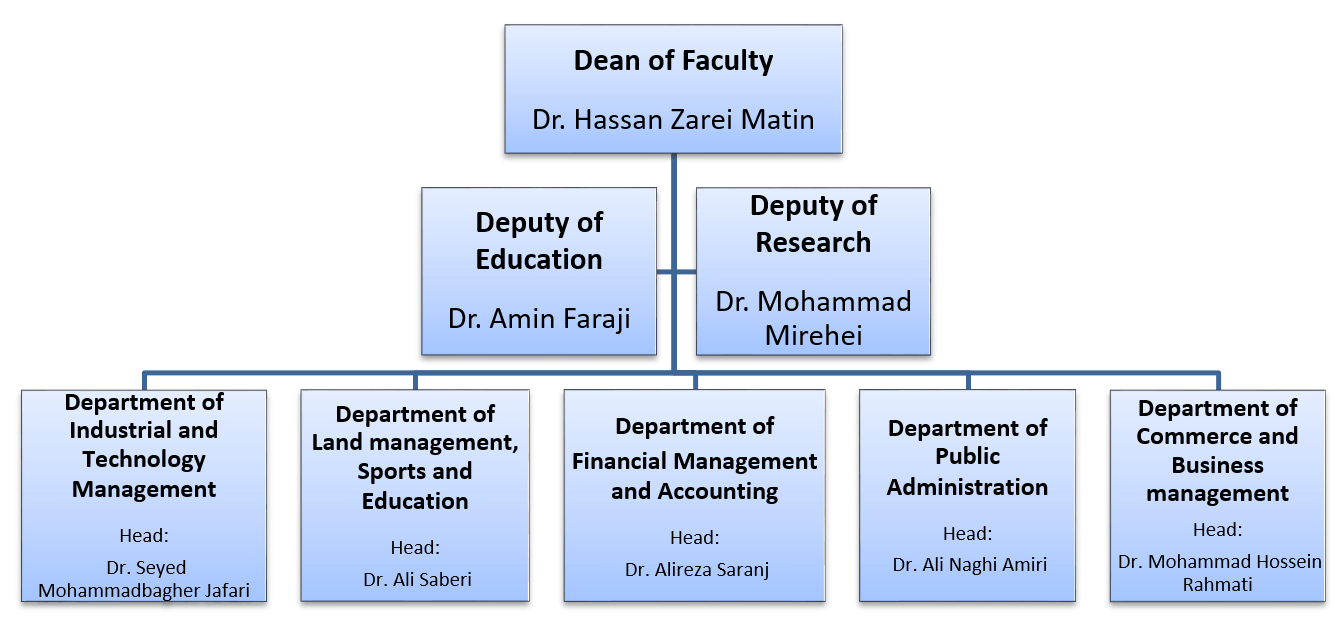 Some of the facilities of the Faculty of Management and Accounting are:
Ayatollah Hakim Meeting Hall

Dr. Seyed Mehdi Alwani Defense Hall

Computer room

40 classrooms
The most important activities performed in recent years in the Faculty of Management and Accounting are as follows:
Holding 2 National Conferences on "Social Capital"

Planning for the First International Conference on "Social Capital and Resiliency"

Holding 5 National Festivals on the topic of "From Idea to the Market"

Holding the 17th National Accounting Conference

Celebrating Accountant Day

Holding a series of scientific meetings and seminars, especially webinars during the outbreak of corona virus

Carrying out more than 100 applied research projects requested by public and private organizations
Research centers
Social capital center

Smart city center
Honors and titles earned by the faculty members:
Introducing Dr. Gholamreza Jandaghi as a top researcher of the University of Tehran in 2011

Introduction of Dr. Hassan Zarei Matin and Dr. Hamidreza Yazdani as the most cited professors in the field of management science in Iran by the Islamic World Science Citation Center (ISC)

Introducing Dr. Amin Faraji, as a young researcher in the 29th University of Tehran Research Festival in 2020

Introducing Dr. Hamidreza Yazdani as the top researcher of Qom province in 2020

Introducing Dr. Seyed Mohamamdbagher Jafari and Dr. Mohammad Reza Fathi as the top researchers of Qom province in 2019